Senior Member
Join Date: Jul 2013
Posts: 313
(Thread Starter)
A45 gets power boost
---
German tuning house mcchip-dkr released details about their new kit for the 45.
19 inch mbDesign Kv1 alloys wrapped in 235/35 ZR 19 Dunlops
Stage 1 bumps stock 355 hp/332 ft-lbs to 400 hp/395 ft-lbs
Stage 2 bumps to 420 hp/395 ft-lbs
Stage 3 swaps the stock turbo and exhaust as well for 450 hp/405 ft-lbs
I'm going to assume they can do your CLA as well, if not they must be developing a specific kit for CLA...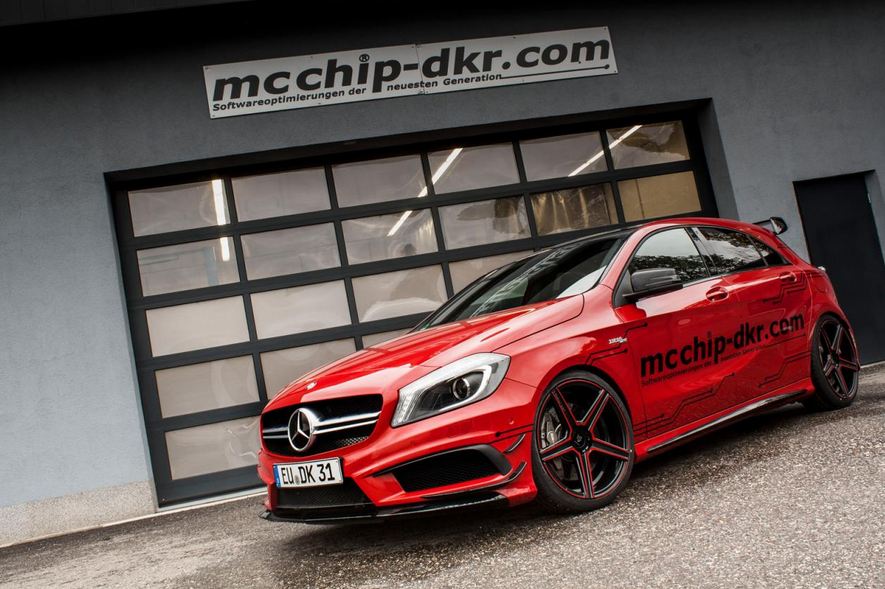 Senior Member
Join Date: Jul 2013
Posts: 313
(Thread Starter)
The AMG45 engine is hand build with specific component so it's much stronger than the normal CLA. I think the CLA may not get as much hp gain and will be a different kit.
Here is a pretty neat link to show you how the AMG engine are build
This Is How Mercedes-AMG Hand-Builds Every Single Engine
I don't remember the exact numbers, but I have read elsewhere that this engine actually puts out fairly close to 400hp (Maybe 385-390). I'm not sure how many of us are willing to bet $20K and your engine on this upgrade.
Mr. Dinan matches the BMW warranty for what he does to their cars, but the word is that he starts above the advertised (300hp) too.
---
Please go to your cp and list your location. This is a multinational forum, and cars from Slovakia are not the same as Belgium or the US.
Posting Rules

You may not post new threads

You may not post replies

You may not post attachments

You may not edit your posts

---

HTML code is Off

---